His bombs killed 331 people. But still no remorse.
By Terry Milewski, CBC News
Inderjit Singh Reyat, seen in 2010, still supports political-based violence, the parole board said, and has only recently shown "partial" acceptance of responsibility in connection with the the Air India bombings of 1985. (Darryl Dyck/The Canadian Press)
Terry Milewski
Senior Correspondent
Terry Milewski has worked in fifty countries during 38 years with the CBC. He was the CBC's first Middle East Bureau Chief, spent eight years in Washington during the Reagan, Bush and Clinton administrations and was based in Vancouver for fourteen years. He now covers politics as Senior Correspondent in Ottawa.
In the mafia, it's called omerta — the code of silence. Thirty years on, that code means still more bitter medicine for the Air India families.
Once again, the bomb-maker is getting out and, once again, he is keeping his mouth shut, offering just enough tactical repentance to ensure his release — and no more.
He is Inderjit Singh Reyat, convicted three times but still the only man convicted at all in Canada's worst-ever mass murder. Until Sept. 11, the bombing of Air India on June 23, 1985, was the deadliest terrorist attack anywhere, ever.
A mechanic from Punjab, living on Vancouver Island, Reyat bought the dynamite, the detonators and the batteries that took the lives of 329 passengers on Air India's Flight 182, which left from Toronto, stopped in Montreal and exploded over the coast of Ireland on its way to Heathrow Airport in London.
A second bomb blew up nearly simultaneously, killing two Japanese baggage handlers as they transferred it to another Air India flight leaving Narita International Airport in Tokyo. Both bombs originated in Vancouver. The passengers who checked them in never boarded. The plan was to produce two spectacular massacres, one on each side of the globe.
In total, 331 innocents died that day. Most were Canadians. Dozens were children. Whole families were wiped out.
Perjury at trial led to acquittals  
Reyat, a member of an extremist group fighting for a Sikh homeland, was first convicted for building the Narita bomb. Then, at the Air India trial in Vancouver, he was jointly accused with two other Sikh fundamentalists for mass murder on Flight 182.
Reyat refused to tell what he knew, but cut a deal and pleaded guilty to manslaughter. The other two, Ripudaman Singh Malik and Ajaib Singh Bagri, were acquitted.
The wreckage from Air India 182, reassembled in a hangar, is seen from a trial exhibit. (RCMP trial exhibit)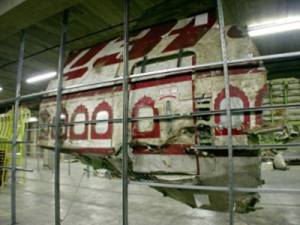 Reyat's silence, though, cost him a third conviction, this time for perjury. He had told bare-faced lies in court to protect his co-conspirators. After serving two-thirds of his sentence, the National Parole Board was bound to release him — statutory release is, after all, statutory — but it did so with evident unease.
Reyat, after all, is not just the only man to serve time for this atrocity, but he's also, by the board's account, the main reason why nobody else did.
"As a result of your committing perjury, the co-accused were not convicted," the board said flatly in its decision.
That sums it up. Reyat knows who else was involved, but refuses to give them up and that's why they have not paid for their crimes. The parole board seems unconvinced that Reyat regrets any of this, even now.
Citing a psychologist's report written in 2013, the decision says the report found that he lacks "true empathy and remorse" for the victims of the bombings.
Is it so bad that he remains a threat, even today? The board offers little comfort on that score, either. It says that Reyat's association with the group that blew up Air India was "inactive while incarcerated," but that his "affiliation has not been terminated."
So not much has changed. His affiliation seems as firm as it was in 2003, when he wrapped up his trial testimony by bowing, his hands together in salute, to his two co-accused.
Inderjit Singh Reyat, left, and Talwinder Singh Parmar are shown at the courthouse in Duncan, B.C., on Nov. 8, 1985. (Chuck Stoody/Canadian Press)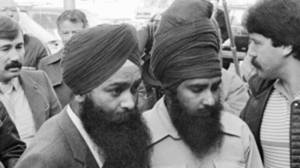 That testimony was, essentially, a pack of lies. Reyat insisted, for example, that he never knew the name of "Mr. X," the man from Toronto who stayed in his home for a week, with Reyat's wife and children, while they built the bombs.
Prosecutor Len Doust was incredulous and asked Reyat, "Did you have his phone number?" Reyat said yes. Well, then, Doust asked, "If you called him, who were you going to ask for?"
Reyat just mumbled, He had no answer. But Justice Ian Bruce Josephson didn't mince words in his verdict.
"Much of his evidence was improbable in the extreme and entirely inconsistent with common sense," Josephson said.
"When caught in obvious and numerous irrationalities, he would seek refuge in memory loss … his evidence was patently and pathetically fabricated in an attempt to minimize his involvement in his crime to an extreme degree, while refusing to reveal relevant information he clearly possesses."
And that, for Josephson, made Reyat's claims of remorse fraudulent.
"His hollow expression of remorse must have been a bitter pill for the families of the victims. If he harboured even the slightest degree of genuine remorse, he would have been more forthcoming."
Released to halfway house  
Now, after serving three prison terms, a remorseless Reyat is to be released to a halfway house under strict conditions. Explaining those conditions, the parole board addressed him directly, emphasizing that "you have maintained the lies you told in court as recently as mid-2013."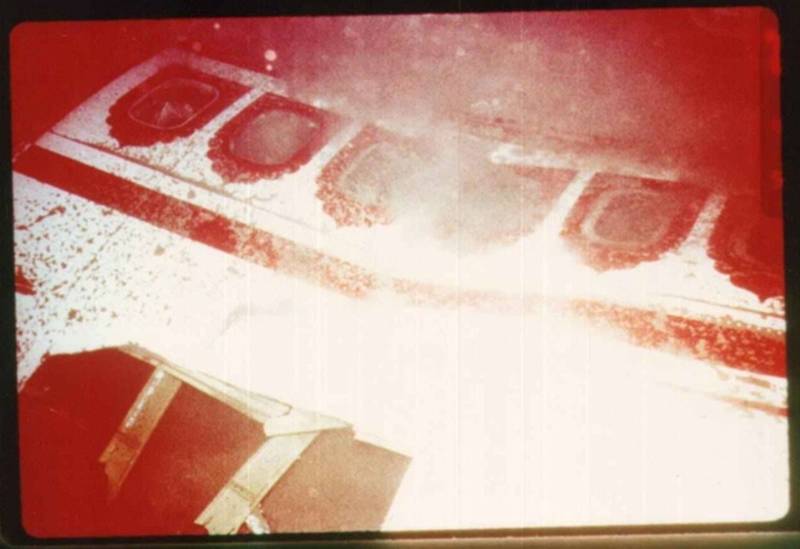 Wreckage of Air India is shown underwater from a trial exhibit. (RCMP trial exhibit)
The board goes on to acknowledge Reyat's belated acceptance of a small measure of responsibility as the time for his release grew near.
"You have indicated that you now recognize that your deception while testifying demonstrates your support for political-based violence. Your shift to accepting this responsibility is only partial and relatively recent."
Indeed. And don't expect Reyat to stop maintaining his lies now. As we approach the 31st anniversary of the bombing, the code of omerta endures and the Air India coverup continues.